Welcome to the Green River Guest House, Fennimore WI!
Green River Guest House, Fennimore WI, offers you the quiet and privacy of a furnished rental cabin get-away combined with the comfort of modern amenities.
Located at the intersection of County Road K and Star Lane in Northern Grant County, Wisconsin, the Green River Guest House is a three minute walk to the Big Green River for world class trout fishing. The same three minutes will put you and your bicycle on the Big Green Loop with easy access to other designated bike trails. Call for reservations. 608-988-4319
Furnished rental cabin with modern amenities such as:
Rooms with two full baths, one with spa tub
Two kitchen areas including all cookware, utensils and tableware
Small deck with bistro seating
Charcoal grill, Picnic table, Fire pit
WiFi
Satellite TV with a large 50" screen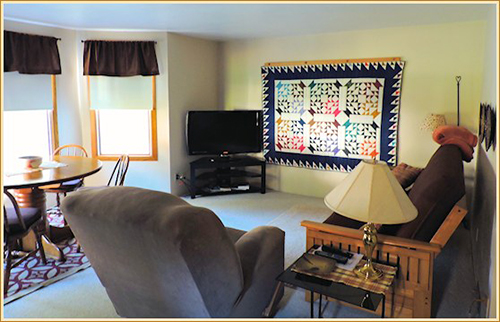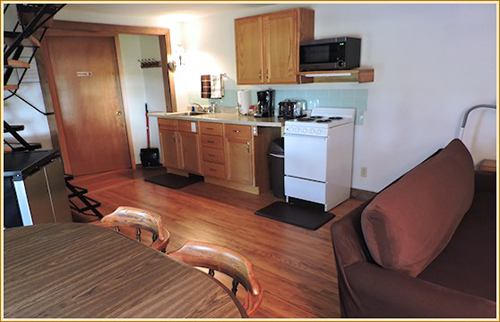 The small rental unit will suit the needs of an individual or a group of 2-4 people. The bedroom has one queen size bed and 2 extra long twin beds. The full bath with spa tub is well supplied with thick, hotel quality towels, a hair dryer and personal care products. The kitchenette is fully equipped with cookware and tableware. Our guests enjoy the charcoal grill, fire pit and picnic table outdoors.
Read more >>
If you have a group of 5-10 people, you will want to rent the recently completed expansion at The Green River Guest House. You will get everything included in the small side unit, then open a door to more than double your space. The complete kitchen includes cookware and tableware. Relax in the open living / dining room area. The two bedrooms upstairs have 6 extra long twin beds.
Read more >>
Short drives will take you to wonderful eating, wineries, shopping, state parks, historic sites and live theater. The Driftless Region of Wisconsin is the home of some of the most scenic vistas in the state.
On site owners are happy to answer your questions about where to go and what to see and do. We welcome you to stay at our rental cabin while you fish or hunt, tour the area, or just relax.
Check our
calendar
for cabin availability and area events, then give us a call at 608-988-4319.
(Click any photo for slideshow)